A) Theory and Practice of Yin Yoga 阴瑜伽的练习与理论
Yin and Yang Theory 阴阳理论

Difference between Yin and Yang Yoga (what is Yin Yoga) 阴阳瑜伽之间的不同(什么是阴瑜伽)

Principles of the Yin Practice (how to practice Yin Yoga) 阴瑜伽练习的原则(如何练习阴瑜伽)

Basic Yin Poses 基础阴瑜伽体式

Modifications and safety in Yin Yoga 阴瑜伽的改进与安全性

B) Yin Yoga Anatomy 阴瑜伽解剖学

Tension and Compression张⼒力与压⼒力

Function and Aesthetics 功能与美学

Proportion and Orientation⽐比例和⽅方向

Symmetry vs Asymmetry 对称和不对称

Skeletal variation analysis⾻骨骼分析

Movement tests analysis运动测验分析
C)Fundamentals of TCM in Yin Yoga中医在阴瑜伽中的应⽤用

Fundamentals of Chinese Medicine中医基础

Modern Meridian Theory现代经络理论

Fascia Theory筋膜原理

Meridians and the Emotions经络与情绪
---
FEE

Regular Fee - First 15 students - 3500 RMB*

Early Bird Fee - First 10 students - 3300 RMB*


Early Bird Fee - First 5 students - 3000 RMB*
* Once above mentioned number of students joined the next early bird fee will be available.
---
REFUND POLICY
No money will be refunding once the course fee given.
---
ENTRY PROCESS
Fill the application form and submit with the fee

Transfer course fee to be done through bank transfer

After arriving we will ask you to sign the Course Rules Form and Course Entry Forms of Drishti Vinyasa Yoga Shala, Shanghai.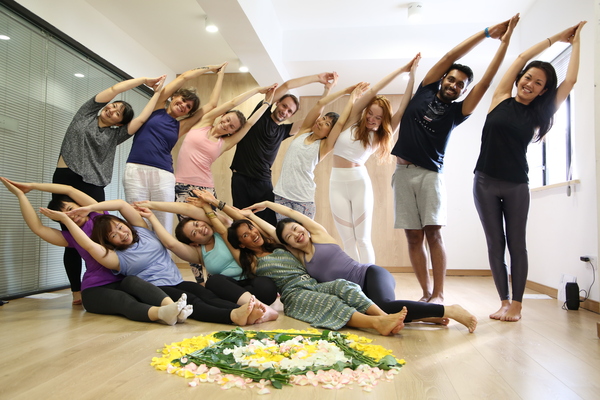 ---
ABOUT DOMINIK
- TRAINER AND ASSISTANT TO JO PHEETrainer and Assistant to Jo Phee
- A MEMBER OF YINPIRATION TEAM ESTABLISHED BY JO PHEE SENIOR TEACHER
- ASSISTANT OF SENIOR YOGA INSTRUCTOR JO PHEE ON NUMEROUS TRAININGS AROUND THE WORLD
- REGISTERED RYT YOGA ALLIANCE TEACHER TRAINER
With a background in anthropology and meditation, Dominik is an experienced Yin Yoga teacher. His practice of yoga combines the knowledge of various different subjects and aims at uniting complex components of each individual. Extensive travels to 30+ countries helped him to be a popular instructor.
Dominik's professional and educational experiences touched upon various topics, however always circulated around spirituality, psychology, healthand education.
He currently spends time in China inorder to deepen his knowledge of Traditional Chinese Medicine that is at thecore of his Yin Yoga practice.
---
WHAT THEY TELLS ABOUT THIS TRAINING
Dominik是一个非常温文尔雅的绅士,你会从他的言行举止之间就能感受到宁静、文艺与悠然,而这正是阴瑜伽的气质。而瑜伽不光是知识的传递,更是对于生命的体验,与Dominik老师本人的相处,正是体验阴瑜伽的一部分。他的练习课堂如潺潺流水般诗情画意,引人入胜。理论部分也富有科学的知识含量,让人豁然开朗。堪称文理的完美结合。让学生对传统中医的气以及印度瑜伽的能量有全新的认知,值得体验。—来自Dominik老师2019年7月深圳工作坊翻译Lamlam
---
学习的日子总是短暂且愉悦的有瑜伽的地方就有连接感恩遇见瑜伽路上有你们的日子不孤单每一次学习都收获不同知识认识不同又相同的你们很高兴和你们还有专业热情风趣的Dominik老师度过愉快的每一天
---