This is a three-week program on how Yogic Philosophy and Psychology can be applied to our everyday life.
This program will be focused on the practical application of knowledge. We will not look at philosophy from an intellectual point of view, but rather how all these ideas and concepts can accompany our practice in every aspect of our life.
Program
8 Aug; 14:00 - 15:30
Application of Yoga in daily life
9 Aug; 14:00 - 15:30
Understanding Destiny and Karma
15 Aug; 14:00 - 15:30
Understanding Destiny and Karma (2 cont'd)
16 Aug; 14:00 - 15:30
Understanding religion from a Yogic viewpoint
22 Aug; 14:00 - 15:30
The concept of suffering
23 Aug; 14:00 - 15:30
Ashtanga Yoga of Patanjali
---
Price

1200元 (Regular Price for 6 days)
1080元 (Early Bird Fee for 6 days - before 20 Jul)
350元 (Regular Price for Each day)
300元 (Early Bird Fee for Each day - before 20 Jul)
* Early registrations need
---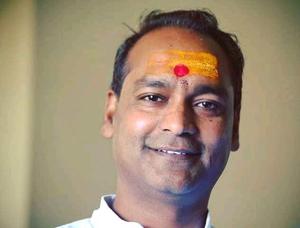 About Sunil Sharma

Yogi Sunil Sharma is Yoganga Healing's founder and creator. He is a renowned yoga teacher known for his unique approach to teaching yoga philosophy and his integration of traditional yoga practices and their healing benefits into every-day life.
Sunil Sharma is a renowned yoga teacher known for his unique approach to teaching Yoga Philosophy, Pranayama and Yoga Nidra. His exposure, experience and wide knowledge in both Eastern and Western practices provide him with a deep and profound understanding of different cultural and social backgrounds. This enables him to approach each student individually. Having witnessed numerous healing and the therapeutic benefits of yoga and personal transformations within his students Sunil decided to share the therapeutic effect of yoga by creating Yoganga Healing in 2013. Sunil developed this holistic healing method called Yoganga Healing by working with the vast Vedic and Yogic traditions to awaken and bring about mind body excellence. Sunil is trained in traditional and Scientific Yoga from Kaivalyadhama. He has a Masters in Psychology and Counseling and is also a Certified Clinical Hypnotherapist and member of the Indian society of clinical and experimental hypnosis. Having a background in modern psychology gives an added advantage to customize these ancient healing modalities to new age clients. Sunil is based in Rishikesh and leads Yoga teacher training programs internationally. He has a large client following in India and abroad. He is also a consultant for teacher training programs in Dubai, China, Croatia and other Asian and European countries.

Yogic philosophy asserts that life is constantly offering challenges and the best way forward is to accept the challenge without blaming others for the miseries in one's own life. Sunil's healing sessions help clients to harness the dormant potential within. He employs a variety of modalities like body awareness, breathwork, mind and sound resonance, deep relaxation and mindfulness meditation. This empowers clients to move forward beyond perceived limitations and move forward in life.

Through Yoganga Healing, Sunil shares the maximum therapeutic effects of yoga, by conducting lectures as well as individual and group healing sessions. This helps equip modern day people with the tools to live more peaceful and healthier lifestyles which ultimately lead to the optimal balance and union of body, mind and spirit – which is yoga.