Take a Step to Slow Down and Feel Better Healing Parts of Yoga

Yoga is not just a body workout to help you reduce fat or burn calories or make you slim. Rather, you should treat it as a tool to building connections with body and the divine side of your being. Restorative yoga is often described as a tool for self - transformation - a way to awaken your divine nature. This training will give a fundamental knowledges about Restorative Yoga practices and the fundamentals of yoga practice to understand the divine part of our own. Come & join with me to learn together.
---
This 20hrs of Restorative Yoga training will give a foundation to grow and learn together to help our own and to the others to understand the importance of deeper meditation, slowing down, breathe awareness & proper relaxation.
What you learn?
Restorative Yoga
Restorative Yoga Poses, Practice sections, Usage of props & supports, Yoga Nidra, Guided Meditation, Benefits, Optional Poses, Teaching Skills
Anatomy
Anatomy of Skeletal - System, Joints, Connective Tissues, Main key muscles, Nervous System, Importance of Relaxation, etc
Pranayama
Types of breathings & Importance of Relaxation through breathe, Breathe Awareness Techniques, Calming Pranayamas, etc
Sequencing
Creating narrative of a restorative class, Restoration Sequences for Hamstring injuries / tightness, Back injuries / tensions, Neck & Shoulder, Spine, Hips, etc

---
Dates of Training
Immersion Theory & Practice (2 - 5 Oct)
08:30 - 09:30 - Practice (Restorative)
09:30 - 10:30 - Sequencing Discussions
10:30 - 11:00 - Break
11:00 - 12:00 - Lecture 1 / Teaching Skills / Practice
12:00 - 13:00 - Lecture 2 / Breathing Teaching Skill / Usage of Props / Optional Postures
* 11 & 18 Oct; 16:30 - 18:00 Restorative Classes must have to attend to finish the Immersion. Certification will be on 18 Oct 18:00
---
REGISTRATION & REFUND POLICY
- Submit the Non-Refundable Course Fee and collect the receipt from our reception
Refunding Policy
- Once submitted with the course fee, it's totally non-refundable.
Inquiries / Booking Wechat: drishtiyogashanghai
---

FEE
580元 for Members
Times card can be use for each time for 90 min section
1080元 for Non-Members
---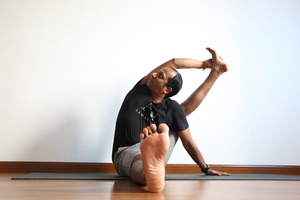 ABOUT RAJEEV, ERYT500, YOGA ACHARYA, AYURVEDA THERAPIST
Born, grew up and studied in Thiruvananthapuram, Kerala, India in 1979. From childhood Rajeev was founded in spiritual life style; influenced by his grandmother. Began to know yoga through his uncle in 1997 and Sivananda Ashram, Neyyardam in 2000. Rajeev began yoga with a stiff body and fall in love with it.
Everyone's understanding and love about yoga are different. He believes in more practical aspects of yoga which could help the people to find peace and harmony in body and mind. Even though follows the traditions of Sivananda & Hatha Yoga traditions; he would like to add up the practices and teachings of T. Krishnamacharya's Vinyasa tradition.
What he offer in his teaching is a stronger foundation, alignment, healing and therapeutical approach. Pranayama & Meditation are the key practices of yoga which he never forget to remind in every section. He teaches the students to learn to feel more through the body to understand their own inner alignments and physical alignments. He believes in every person is their own teacher and we become a tool to initiate it.
He is an approved ERYT500, YACEP provider and Yoga Acharya with 20 years of teaching experience. He offers the yoga workshops, yoga retreats and yoga teacher trainings throughout India and in China for last 15 years. He founded Drishti Vinyasa Yoga Shala, Trivandrum in 2010 and Drishti Vinyasa Yoga Shala, Shanghai in 2011. Presently he is running his yoga shala in Shanghai, China with his life partner Yue.
---