WANT TO HELP YOUR YOGA STUDENTS BETTER WAYS IN POSTURES?

LOOKING FOR ALIGNMENT OF YOGA POSTURES?
FINDING A FOUNDAMENTAL KNOLWEDGE ABOUT YOGA POSTURES?
This is the training which you looking for to know more about yoga postures and it's alignment and adjustment skills. This training suit for all levels of yoga practitioners to know the fundamentals of alignment and adjustment skills. Come & join with Rajeev
When we hear about adjustment of yoga poses, first image in our mind comes is our teachers are pulling or pushing us in the yoga poses. Hands on adjustment is not about pulling or pushing or fighting or struggling within the yoga poses. It's all in cultivating awareness to the body parts.
"Cultivating awareness to that part of body where the awareness is not easily getting"
This Hands on adjustments in yoga poses can be a powerful tool for yoga teachers when applied effectively and safely. When adjustments are performed with correct technique and strength, they can transform your student's yoga experience as body awareness and kinesthetic muscle memory is developed. This in turn creates a safer practice environemnt for both teacher and student. Overall, when it comes to adjustments, its as much about experiencing the benefits of optimal postural alignment as the healing ability of touch.
This is a Drishti Yoga Continuing Education Program (CEP) approved by American Yoga Alliance under YACEP (Yoga Alliance Continue Educating Program). This course is suitable yoga practitioner to understand what's the meaning of adjustments and alignment of yoga poses. If you are a yoga teacher then this will be an extra knowledge which you adding into your teaching skills plus you can these hours to your CEP program's of American Yoga Alliance. YACEP Certificates will be issuing with this course to every hour fulfilling by participants.
---
REGISTRATION & REFUND POLICY
- Submit the Non-Refundable Course Fee and collect the receipt from our reception
Refunding Policy
- Once submitted with the course fee, it's totally non-refundable.
Inquiries / Booking Wechat: drishtiyogashanghai
---

FEE
5200元 - Regular Fee
4800元 - Earlybird Fee (till 10 Mar 2021)
Drop in / Sections - 300RMB per day
---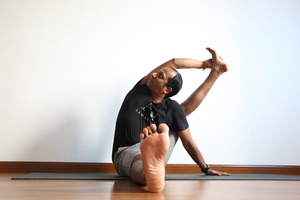 ABOUT TEACHER - RAJEEV ERYT500, YOGA ACHARYA, AYURVEDA THERAPIST
Born, grew up and studied in Thiruvananthapuram, Kerala, India in 1979. From childhood Rajeev was founded in spiritual life style; influenced by his grandmother. Began to know yoga through his uncle in 1997 and Sivananda Ashram, Neyyardam in 2000. Rajeev began yoga with a stiff body and fall in love with it.
Everyone's understanding and love about yoga are different. He believes in more practical aspects of yoga which could help the people to find peace and harmony in body and mind. Even though follows the traditions of Sivananda & Hatha Yoga traditions; he would like to add up the practices and teachings of T. Krishnamacharya's Vinyasa tradition.
What he offer in his teaching is a stronger foundation, alignment, healing and therapeutical approach. Pranayama & Meditation are the key practices of yoga which he never forget to remind in every section. He teaches the students to learn to feel more through the body to understand their own inner alignments and physical alignments. He believes in every person is their own teacher and we become a tool to initiate it.

He is an approved ERYT500, YACEP provider and Yoga Acharya with 20 years of teaching experience. He offers the yoga workshops, yoga retreats and yoga teacher trainings throughout India and in China for last 15 years. He founded Drishti Vinyasa Yoga Shala, Trivandrum in 2010 and Drishti Vinyasa Yoga Shala, Shanghai in 2011.